My oft-writing and research buddy, Eric Wittenberg, has just announced that his newest book, "Rush's Lancers: The Sixth Pennsylvania Cavalry in the Civil War" has just been released.  You can read details on his blog.
The 6th PA was quite a storied regiment of horsemen – early in the war, they carried long, heavy, cumbersome lances that the boys found more of a pain in the ass than a weapon.  They also gave rise to some nicknames for the regiment – "Lancer's Rushes," and "Turkey Drivers."  Despite the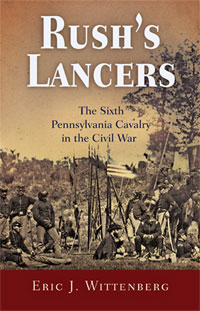 guffawing, the bluebloods of the 6th PA turned out to be one of the hardest-hitting and bravest regiments on either side.  Brigaded with the U.S. Army's Regular Cavalry, no less than Gen. John Buford called them "my seventh regulars."  Impress Buford, and you were tough indeed.
I was one who edited the book's manuscript for Eric, and I can tell you that regardless of your primary interests regarding the war, you'll enjoy this book immensely.  Rush's Lancers is one of those units that has an amazing story to tell, and no one could do it better than Eric – who grew up near Philadelphia (where most of the regiment was raised) and has collected information on the unit for nearly 15 years.
Buy it and enjoy – and congratulations Eric!